Our Past - A Legacy of Love
Rehema Ministries, dba Rehema for Kids, and In Step Foundation were founded simultaneously in 2006 by two couples that God brought together. They discovered a shared heart and passion for Africa and its children. Co-Founders Ron and Joyce Panzero and Jeff and Carla Picicci chose to step out in faith and live out their shared motto of "No Regrets!"
Our first baby was found abandoned in a cornfield in Kenya on a cold, rainy day in July of 2006. Jeff and Carla named her Rehema Grace. Rehema means Mercy in Swahili. On that day, Rehema for Kids was born.
Co-founders, Ron and Joyce Panzero, continue to live in Anacortes, Washington. Rehema for Kids is so thankful that the Panzeros answered God's call in 2006 and gave of themselves so generously to the ensure the children at In Step were cared for, fed, educated and loved. Their hard work and sacrifice laid the groundwork for Rehema for Kids' future success. The Panzeros' willingness to share their passion with others ensured more and more people became aware of the children God was bringing to In Step. Ron and Joyce have left an amazing and inspirational legacy of love that will continue to unfold for future generations. However, after 12 years of amazing dedication and sacrificial service, Ron and Joyce are looking forward to retirement and the next chapter of the adventure that God will be directing in their lives. We are so happy for them both and hope they will enjoy spending more time with their precious grandchildren.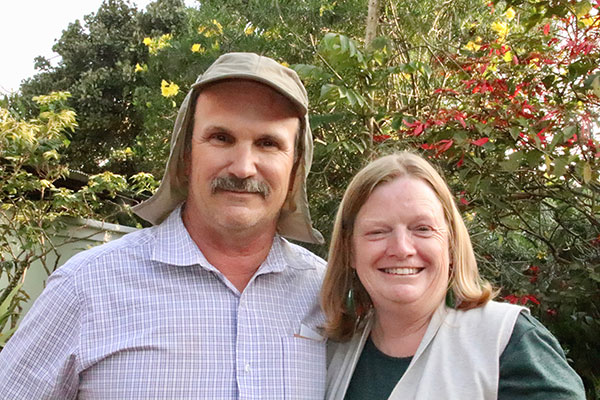 In Step Foundation (ISF) is registered as a company formed under the Kenyan Companies Act and is a separate organization from Rehema Ministries dba Rehema for Kids. ISF owns the land, buildings and other assets in Kenya. The children's home is also registered as a Kenyan entity under the Kenyan Societies Act under the name In Step Children's Ministries. This registration allows the organization to officially operate as a licensed children's home that provides care for the children.
Jeff and Carla Picicci continue to be a huge source of inspiration to all who are blessed to know them. The children at ISF are blessed to have Baba Jeff and Mama Carla at the helm! Rehema for Kids leadership is so thankful for Jeff and Carla's hard-working, sacrificial, and dedicated work ethic. The Piciccis work closely with Rehema for Kids leadership to help convey the current and future needs of the children, and the infrastructure at ISF that supports their efforts.
Since we live by the Spirit, let us keep in step with the Spirit. ~ 
Galatians 5:25 NIV