In Step Foundation (ISF) is registered as a company formed under the Kenyan Companies Act and is a separate organization from Rehema Ministries, dba Rehema for Kids. ISF owns the land, buildings and other assets in Kenya. The children's home is also registered as a Kenyan entity under the Kenyan Societies Act under the name In Step Children's Ministries. This registration allows the organization to officially operate as a licensed children's home that provides care for the children. Jeff and Carla Picicci continue to be a huge source of inspiration to all who are blessed to know them. The children at ISF are blessed to have Baba Jeff and Mama Carla at the helm! Rehema for Kids leadership is so thankful for Jeff and Carla's hard-working, sacrificial, and dedicated work ethic. The Piciccis work closely with Rehema for Kids leadership to help convey the current and future needs of the children, and the infrastructure at ISF that supports their efforts.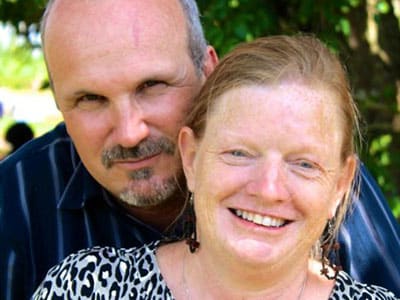 ISF Directors and Co-founders
Jeff and Carla describe themselves as "regular, ordinary, common American folks." They raised their children, Sarah and Matt, in the Tri-Cities area of Washington State. In the late 1990s, Jeff and Carla felt God leading them to take an interest in world missions. In early 2003, Jeff and Carla met Ron and Joyce Panzero from the Anacortes, Washington area. The couple introduced Jeff and Carla to a man from Kesogon, Kenya who invited Jeff and Carla us to visit him & his family for three months and serve God in Kesogon. As Jeff previously had the opportunity to visit Kenya, they were thrilled that God was now making a way for them to experience it together. As Carla explains, "We went to Kenya and fell in love with it! We love the people! We love the weather! We love the culture! We love serving our Lord in Africa!"
During that initial visit, Jeff and Carla built relationships, checked out the possibilities for a future ministry and – most importantly – prayed and prayed and prayed. By the end of the trip, Jeff and Carla were certain beyond a shadow of a doubt that Africa was where they were to serve God! Over the next few years, Jeff and Carla served by teaching Bible studies, spring protection projects (clean water) and providing transportation for medical help.
Soon after, Jeff and Carla were asked to care for a newborn baby that had been found in a cornfield with her umbilical cord still attached. They named the baby Rehema, meaning Mercy in Swahili. The need to provide care for abandoned and abused children was evident. Today, Jeff and Carla provide care for over 200 children.
Beth Ann's ministry has been at orphanages in Mexico, Jamaica, and Paraguay. She joined the team at In Step in 2012 working with the preschool children. Beth Ann is a career missionary with Elim Fellowship and is committed to fulfilling the call on her life of Caring For HIS Children. Beth Ann is now the project coordinator and director of Stepping Stones, our program for developmentally & physically disabled children.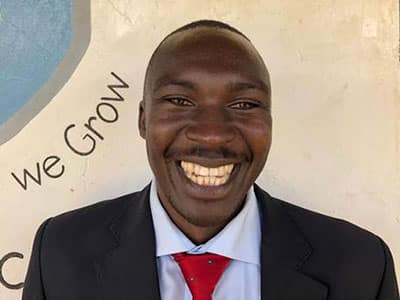 I am Murunga Shadrack Sibanga, a 30-year-old Kenyan citizen by birth and a born again Christian. I am married with 2 children, a daughter and a son who live in Mugenya village Motosiet. I am the third born of a family of four. Teaching is my passion. I have taught for 9 years. I like reading novels, playing football and traveling.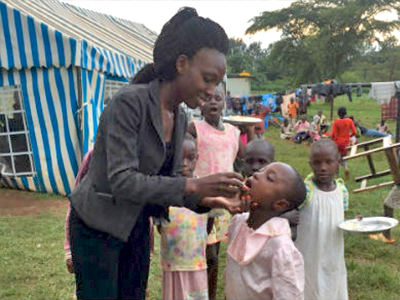 Abigael  attended Baraton University in Kenya, graduated with BSc in Nursing. Prior to joining In Step Foundation, she worked as a deputy nurse in-charge and a nursing officer with an emphasis on pediatric medicine. Abigael enjoys travelling, spending time her family, nature walks and reading. We are grateful to have Abigael as part of the team!
Gladies is a Head Social Worker at In Step Children's Home in Kenya. She has been a social worker with 5 years experience, working with different institutions and she is now working with In Step Foundation, since December 2018. She has experience working with children in need of care and protectection,Orphans and Vulnerable Children, (OVC) for the best interest of the child. Gladies is a holder of Diploma in Community Health and Development, from the International School of Medicine and Applied Technology. She also has a certificate in HTC, basic nursing skills and Home Based care.
Gladies is open minded, talkative and honest and also has passion to work, mentor and nurture children with good godly moral values. Gladies is married to Mr. Albert Wafula Kwena and together are blessed with three children, two boys and one girl. Gladies loves dancing for leisure, reading medical books to expand her knowledge and socializing with children during her free time.