Every child deserves a loving and safe home. Every child deserves an education. Every child deserves a bright future.
Since receiving our first child in 2006, our mission has impacted the lives of over 200 Kenyan children. Rehema for Kids raises funds and awareness to rescue abused, abandoned and orphaned children in Kenya and provide for all that they need to rebuild a new life. One of the main ways we accomplish this is through our partnership with In Step Foundation and In Step Children's Ministry in Kitale, Kenya.
From the beginning, In Step Co-Founders, Jeff & Carla Picicci, along with dedicated Kenyan staff and volunteer missionaries, continue to grow a holistic environment that ensures each rescued child receives the love, care, food, housing, basic medical attention, education and other activities needed to reach his or her full potential. Every element of this work is designed to build a community of strong women and men who live productive lives and find their purpose as leaders.
In Step Campus
In Step Foundation's 20 acre campus is located in Kenya's Cherangani Hills region. Rehema for Kids raises awareness and resources for the following programs and projects.
Education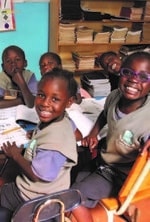 Education is the key to success for children in a developing country. Especially for kids who don't have the security of a family or a tribal identity.
In Step Academy provides a quality, holistic education for our children, giving them the skills to thrive as Godly, Responsible citizens of Kenya.
Sanitation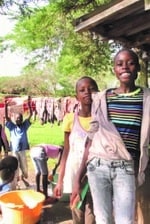 The waste water treatment plant was added in 2015 and provides the children with a more sanitary environment. It also processes gray water for laundry and agricultural irrigation. Even during the dry season, it is now possible to harvest a variety of fruits and vegetables!
Clean Water
The Children's Home side of the campus has a fresh water well which typically provides enough water for the campus, however, it has been determined a well for the school side of the campus will be necessary in the near future.
Spiritual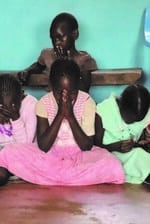 Each week in church, the Children's Pastor introduces a spiritual truth, Bible story and memory verse. Throughout the week, Sunday's lesson is reinforced in daily lessons and routines.
Health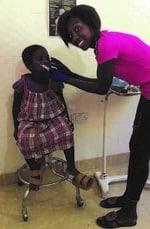 A country where malaria, typhoid, tuberculosis (TB), HIV, and yellow fever are common diseases, we ensure that the children receive quality healthcare for their proper development and long term health. In 2018, we were thrilled to be able to hire a full-time nurse who provides quality care to the children. Many of our children have underlying health conditions such as epilepsy, cerebral palsy, AIDS/HIV and the nurse administers medicines and keeps a watchful eye on the children.
Stepping Stones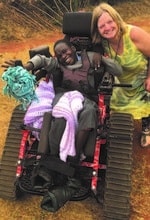 Stepping Stones is a dedicated center for our special needs children. Some of the children are in wheel chairs and others can only eat blended food. Each child receives individual attention. It is a team effort to provide all of their needs. They are loved and cared for in a calm, quiet environment. In 2020, we were able to hire an occupational/physical therapist who provides customized therapy for the children, helping them to develop life skills such as eating and brushing teeth.
servant leadership and character development
Hunting for the Big Five is not easy, but the reward is a life worth living!
In Africa, the "Big Five" was coined by hunters as the five most difficult animals to hunt on foot. At In Step Foundation's Children's Home in Kenya, a fun twist to the Big Five has been developed for the purpose of helping children make positive life choices.
From a young age, the children at In Step learn that practicing the Big Five helps them manage their own behaviors, build relational trust with others, and take foundational steps towards becoming leaders of integrity.
To reinforce these positive choices, the children have the opportunity to earn "Duka Dollars" for exhibiting Big 5 behaviors. They are able to spend their dollars at Mama Carla's Duka (Small Store)
The Big Five
Buffalo – Be safe.
Lion – Be respectful.
Leopard – Make good choices.
Elephant – Work together.
Rhino – Keep on trying your best.