Learn more about our story and why we do what we do here at Rehema.
The Problem
Every day kids in Kenya are abandoned, abused, or orphaned because of poverty, disease, or death of family.
The CDC estimates 50% of all Kenyan children experience physical, emotional, or sexual violence. Abuse and abandonment are multifaceted issues in Kenya, with common causes stemming from severe poverty, intergenerational trauma, mental illness, and cultural stigmas surrounding children with disabilities or born from incest. For example, twins and children born with disabilities are considered a curse and are discarded.
As a result, it is estimated there are more than 3.6 million Kenyan children under the age of 18 have been orphaned or are vulnerable.
Some kids are left alone to starve, living in squalor because nobody can afford to feed them, leaving them critically malnourished. Others were found by neighbors after being dumped in outdoor latrines, barely alive. These children have no hope for a future unless someone intervenes.  That's why we exist.
The Solution
Since our first baby arrived in 2006, Rehema for Kids has rescued and raised hundreds of children. We are the only children's home in the region that funds each child's high school education, college or trade school and as a result, several of our graduates are now working in the community and contributing to the betterment of society. They are working in childcare, construction, information technology, and one is currently enrolled in culinary school.
We believe God calls us all to care for "the least of these." Rehema for Kids is a dedicated group of Christian leaders who welcome those abandoned kids into our village. In our care, we provide them with a loving home, quality education, nutritious meals, medical intervention, trauma counseling, and Biblical discipling that gives children the hope of Jesus and a chance to break the cycle of poverty.  Our village consists of a children's home, primary and junior high school, medical clinic, and special needs center where they can heal and thrive.
Since we live by the Spirit, let us keep in step with the Spirit. ~ Galatians 5:25 NIV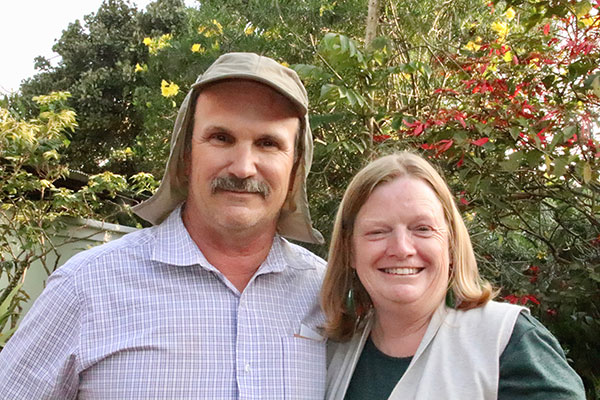 Our Children's Home Today
In Step Foundation (ISF) is registered as a company formed under the Kenyan Companies Act and is a separate organization from Rehema Ministries dba Rehema for Kids. ISF owns the land, buildings and other assets in Kenya. The children's home is also registered as a Kenyan entity under the Kenyan Societies Act under the name In Step Children's Ministries. This registration allows the organization to officially operate as a licensed children's home that provides care for the children.
Jeff and Carla Picicci continue to be a huge source of inspiration to all who are blessed to know them. The children at ISF are blessed to have Baba Jeff and Mama Carla at the helm! Rehema for Kids leadership is so thankful for Jeff and Carla's hard-working, sacrificial, and dedicated work ethic. The Piciccis work closely with Rehema for Kids leadership to help convey the current and future needs of the children, and the infrastructure at ISF that supports their efforts.