Jambo everyone!
Happy new year! I hope your 2022 is off to a great start! Here at the children's home, we have had a very busy beginning of the new year!
In Step Academy has been blessed to be the recipient of a Rotary International grant, which has benefitted our students in a big way! The grant provided for full implementation of the African Ruggedized Educational System (ARES), including laptops, servers, projectors, screens, etc.! The ARES servers have an amazing amount of educational materials, including the Kenyan government approved curriculum, over 45,000 books, 900 TED Talks, plus a ton more! It is an absolutely incredible tool which will make learning fun, while our kids obtain computer knowledge and skills that will give them a significant edge in the future!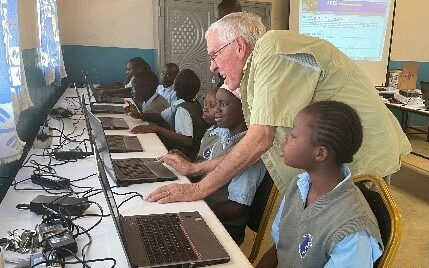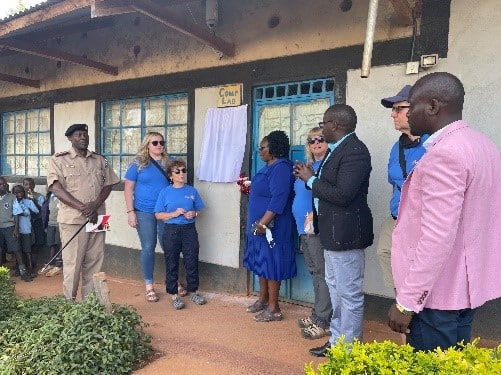 This project came to fruition with the help of many people and organizations but was mainly spearheaded by the Rotary Clubs of Kitale, Kenya and Burlington, Washington. It took more than three years to bring the project to completion, but finally on January 11, we had a wonderful commissioning ceremony and officially began using the system in our day to day school schedule!
We were especially appreciative that four members of the sponsoring club, Rotary Club of Burlington, were able to join in the festivities and spend a bit of time with the kids! They hung out at the school for a few days; reading to the younger kids, hanging projector screens, helping with the finalization of the ARES project, etc. In Step Academy, as well as the Rotary Club of Kitale, are so very thankful and grateful to the Burlington club for sticking with this project for so long, until it finally came to pass!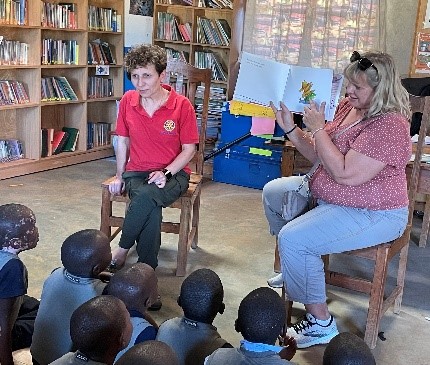 I don't think the students fully understand how much of a boost they are getting by having computers be part of their day to day education! This privilege is not common in Kenya, especially in a tiny primary school in a poor, rural area! But even if the kids don't get the whole picture, parents in our community do! We are being approached often by our neighbors, wondering how to get their kids enrolled at In Step Academy. For now, we have been putting them off, as we are in the final term of a school year. The new year starts in April, so we will see what happens then. Presently, we have 59 community kids attending ISA. Our hope is that we will add to that number, which will give our kids a more normal childhood being able to cultivate friendships with kids other than their In Step brothers and sisters.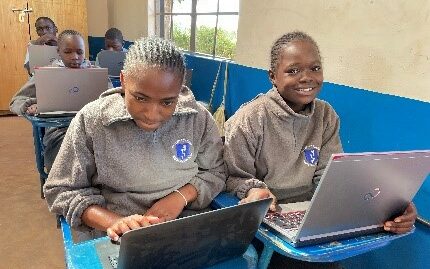 It is also important for the community at large to be involved in our children's lives! There is still some stigma to being an orphan and integration can help both the children's home kids and the community kids, to see that they are all the same, no matter their family circumstances or situations. The ARES system is going to bring lots of good change to our area and we are eternally grateful for the privilege!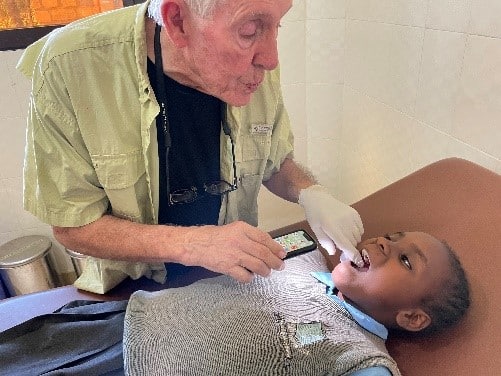 Besides the group from Burlington, we were also blessed to have visitors from New York State! This group of eleven was about half dental team and half "work with the kids at school" team. The dental team worked long hours to provide exams, cleanings and procedures for our kids!
Working in an environment that was sometimes less than ideal; multiple power outages, generator break downs, dental suction hose being somewhat unreliable, very loud air compressor which often startled the kids, a big language barrier, etc… they really hung in there and got the job done!
Besides the actual dental work, they also took the time to go into each classroom, showing a video and giving a demonstration about the proper way to brush your teeth! After noticing that some of the smaller kids had some serious plaque build-up, the dental team also worked with the home management to adjust the brushing schedule for the kids and train the childcare aunties how to better help them brush! What a blessing!
The other half of the team immersed themselves into helping at the school! Between running soccer clinics during PE time, hands on science lessons about energy and energy conservation, teaching students how to do crossword puzzles, helping in computer classes, building and racing electric cars, arts and crafts, etc., the kids had a great school week! The more-techy of the visitors also spent time with the Information Technology officer who works for the school, giving him some extra encouragement and training to help make sure the ARES system is successful long-term! Talk about great timing for their visit! I'm sure our IT guy will stay in contact with a few of them, as questions come up concerning the computers… what a great resource for our school!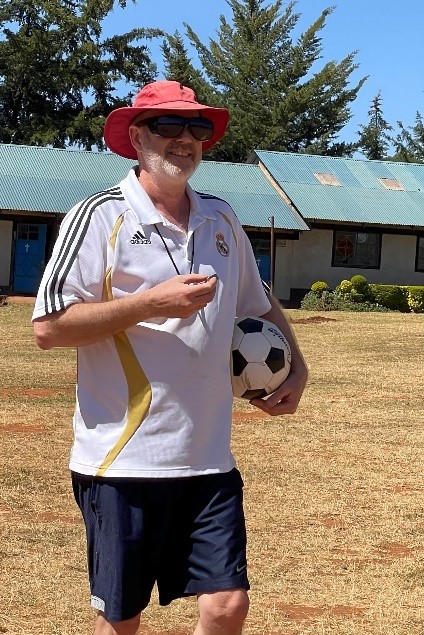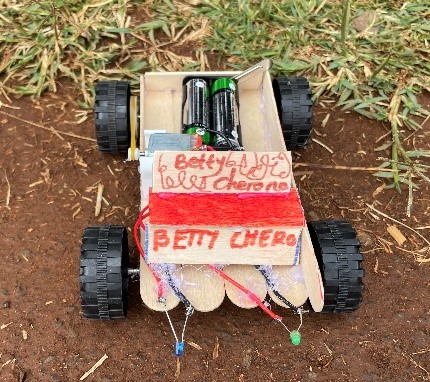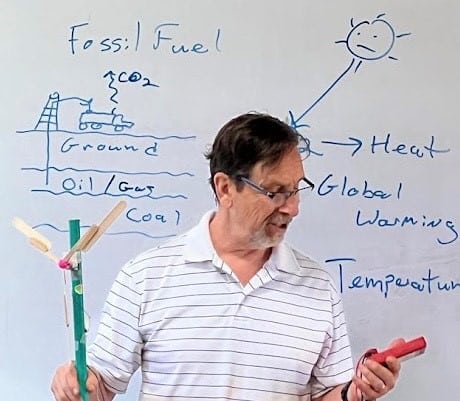 One team member is a nutritionist and one is a medical professional. The two of them conducted nutrition and first aid classes for our staff, which was highly appreciated! Both of them taught in such a way that the "students" felt comfortable to ask questions and even track them down privately during the days following the classes, to ask questions they had thought of later! I thought it was really special that these ladies made themselves available to share their knowledge with our staff!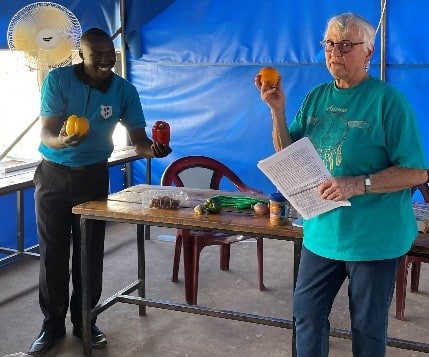 The pastor of the team took the time to fellowship with our pastor, sharing thoughts and ideas, then working together for the Sunday service, where the team also shared a song or two!
Also during their visit, they managed to paint a few gates and stairway railings, give out gifts of stuffed animals, Croc buttons, toothbrushes and school supplies… and most importantly, spend lots of time with the kids!
I think that the kids' favorite time with the visitors was each evening during devotional time! Every night, the visitors were welcomed to the dorms (women to the girls' dorm and men to the boys'), to join in singing, sharing testimonies and Bible verses, and just hanging out! This meant so much to the kids and I think it was pretty special for the visitors too!
We hadn't had visitors for two years so this time was very special! COVID is still making it a bit inconvenient to travel, adding extra hoops to jump through, and we really appreciate the effort and expense both teams were willing to go through for our kids!
After serving for ten days at In Step Children's Home & Academy, the NY team invited me to join them on safari! What a wonderful experience! I hadn't been on safari in many years and it was a real treat!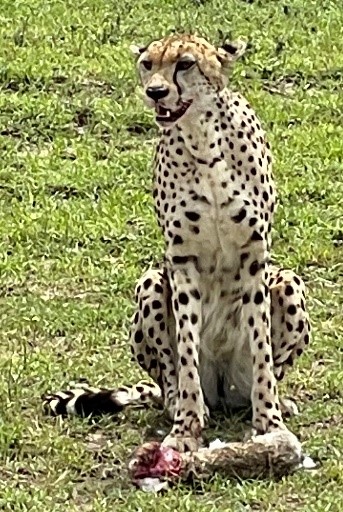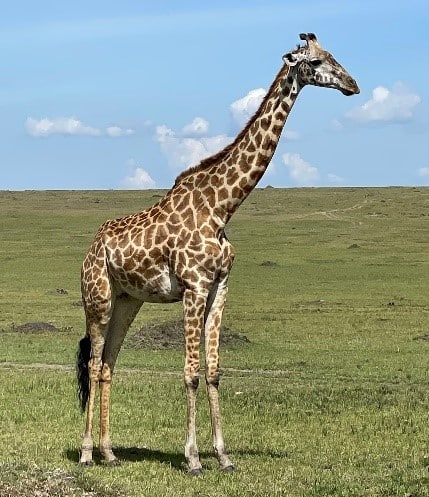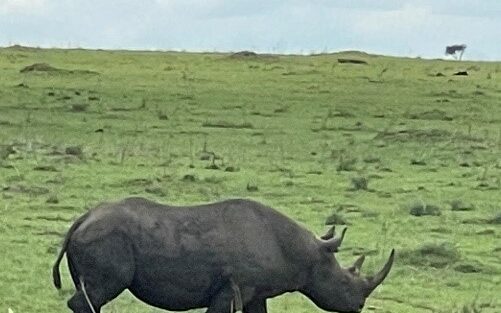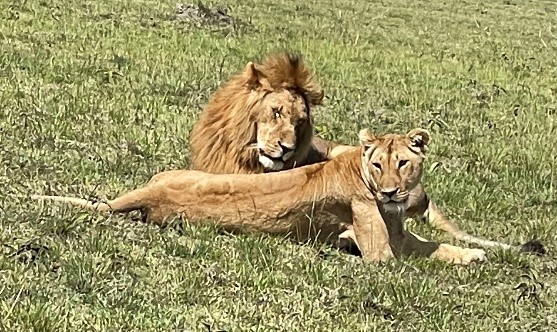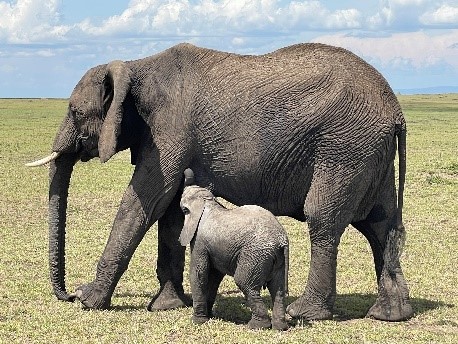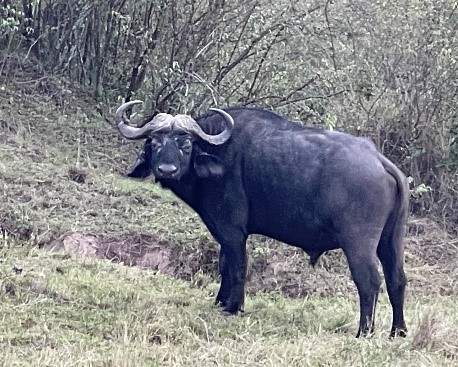 Finally, some of you have been asking about Joanie's upcoming cochlear implant surgery. We are hoping that we can work out all of the final details in the next week or so. If we succeed, she will be slotted for surgery during the last week of February. If not, the surgery will take place in April.
We appreciate all of your prayers and other support for Joanie! This surgery will be life-changing, not only giving her the gift of hearing, but also the gift of speech! Oh what we take for granted!
Post-surgery, Joanie and her sign language translator/teacher, will need to make monthly trips to Nairobi for cochlear follow-up and speech therapy. Each trip will be four days long, staying in a guest house that has a kitchen, which will make meal times easier and less expensive. Even so, these trips will be an extra monthly expense for a full year following surgery. If you feel like you would like to help with this, please contact Tori at rehemaforkids.org, tcostello@rehemaforkids.org or (509) 405-8677.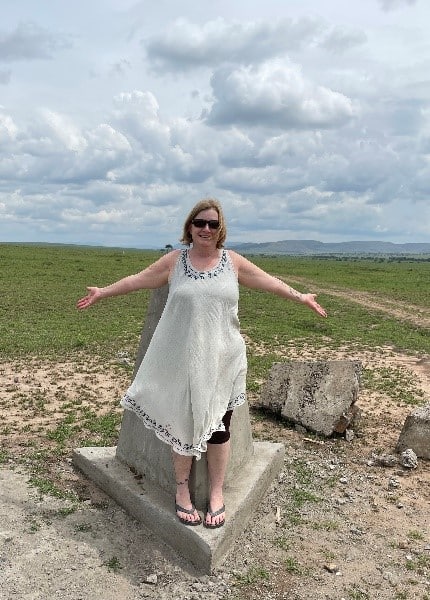 Thanks for hanging in there with us and caring about our kids! Words will never be able to express our appreciation and gratitude!
GIGATT (God is Good All the Time)!
Mama Carla